Momentopolis, also known as Stage 9 or Round 9, is ninth and final world stage in Blinx: The Time Sweeper.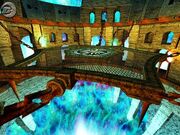 Appearance
Edit
Momentopolis is a city in world B1Q64. Its upper parts consists of large stone building and a massive metal platform suspended by huge metal chains, featuring iconography. The lower section also features huge metal chains, but its almost pitch black dark.
Adversaries encountered
Edit
Ad blocker interference detected!
Wikia is a free-to-use site that makes money from advertising. We have a modified experience for viewers using ad blockers

Wikia is not accessible if you've made further modifications. Remove the custom ad blocker rule(s) and the page will load as expected.