Naoto Ohshima is a famed Japanese video game character designer and game director.
A former Sega employee, he is most notable for having created both Sonic the Hedgehog and Dr. Eggman, and for several years was very active in Sega's subsidiary Sonic Team, where he also created the cult classic Sega character, NiGHTS.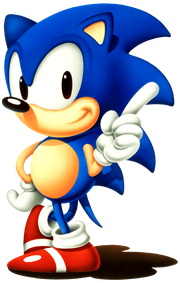 After leaving Sonic Team and Sega, Naoto Ohshima formed his own independent game studio, Artoon. When Artoon was hired by Microsoft to create a game mascot for the XBox, with Artoon coming up with Blinx, Naoto Ohshima would direct both Blinx: The Time Sweeper and Blinx 2: Masters of Time and Space. By 2010, Artoon would later be purchased by AQ Interactive.
Following the acquisition, Naoto Ohshima and several other former Artoon employees would leave AQ Interactive and form Arzest.
Ad blocker interference detected!
Wikia is a free-to-use site that makes money from advertising. We have a modified experience for viewers using ad blockers

Wikia is not accessible if you've made further modifications. Remove the custom ad blocker rule(s) and the page will load as expected.