The final level of Time Square is the first boss in the game, the Dust Keeper. This boss has four health points.
Cat Medals

No cat medals on boss levels.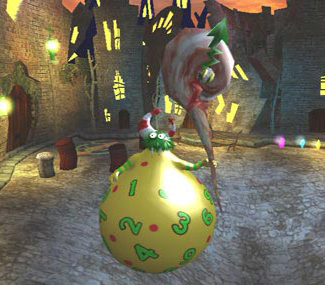 S+ Time - 0:30.00
Buy two spiked balls at the shop. Hit him as fast as possible. Ignore the gold.
The Dust Keeper will bounce around the stage. After every few bounces he will swing his wand, launching 3 pieces of garbage at once then he'll wait for a second and bounce some more, this is when you need to attack. Occasionally, the Dust Keeper will launch a 16T weight, if this lands near you, you will be knocked off your feet. If he lands near you, he will spin
Ad blocker interference detected!
Wikia is a free-to-use site that makes money from advertising. We have a modified experience for viewers using ad blockers

Wikia is not accessible if you've made further modifications. Remove the custom ad blocker rule(s) and the page will load as expected.